What is Diep.io Tank Tree?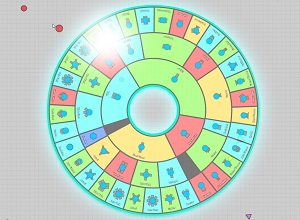 Diep.io is a most entertaining game in which a series of concentric rings contains tanks. There are many rings in the game that contain many levels. The starting tank is placed in the center of the class tree or level 1. The first ring contains the second-tier tanks (level 15). The second rings contain the third-tier tanks (level 30). The outermost and the last ring contains the fourth-tier rings (level 45). There is a very colorful pattern in the selection menu and in the diep.io tank tree.
What is the Color Pattern of the Tank?
The full chart or game has a colorful combination. The first one or first tank contains light blue backgrounds. After that, the second one has a green background. The third one or the middle one has a red background. After that fourth one has a yellow background and the fifth tank has a dark blue background. The last one or the fifth tank has a purple background. You have to start or open this game to press Y on your keyboard. The color order is very interesting in this game also very attractive. You have to really enjoy the pattern and then of this game.
In order to increase your tank level in diep.io, you must increase your XP level and increase your character level. You can do this by destroying surrounding pieces or destroying enemy tanks. When you level up in diep.io, you continue to rise from a certain tank class by choosing from a group of tanks. You need to know the diep.io tank tree classes in order to reach the desired tank.

How Many Tiers are Available in Diep.io Tank Tree?
There are four tiers are available in this game.
Tier 1:  You have started your tank and you have one chance to destroy the squares in 2 hits, pentagons into 22 hits, and the triangle in 5 hits. You have to increase your powers and health by destroying polygons and also gain some points by killing other players.
Tier 2: After reaching the 15 levels, you have to upgrade all weapons, powers, and health. First of all, you have to upgrade tanks and choosing the twins classes, and damages other players. Choose also a sniper to shoots your enemies from any point.
Tier 3: After completing the 30 levels, you have to upgrade your 3 specializations. First, one is twin upgrades in which you have to upgrade your triple shots, tank, and twin flank. The second is sniper update which you aim your target from a large distance. The last one is machine gun updates in which you increase your explosive powers.
Tier 4: After completing the 45 levels you have to reach the fourth tier of the diep.io tank tree. In this tier, you have full power to upgrades your health and all the weapons.
Diep.io Tanks
Twin
Sniper
Machine Gun
Hunter
Trapper
Destroyer
Gunner
Ranger
Stalker
Booster
Flank Guard
Triple Shot
Quad Tank
Twin Flank
Assassin
Overseer
Tri-Angle
Quad Tank
Twin Flank
Auto 3
Factory
Smasher
Triple Twin
Manager
Overtrapper
Fighter
Hybrid
Annihilator
Battleship
Octo Tank
Auto 5
Triplet
Penta Shot
Spread Shot
Overlord
Necromancer
Skimmer
Rocketeer