Surviv.io Mods (Scope and Laser)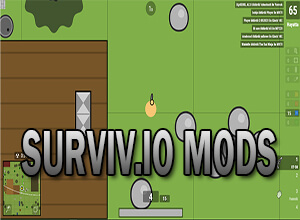 Many players want to destroy other players easily with Surviv.io mods. In Surviv.io, everyone starts the game equally, but players, who have Surviv.io mods, can use scope and laser properties and easily kill other players.
Surviv.io Mods
In the game, there are 3 different game modes such as a solo game, duo game, and squad game. Before entering the game you must select the server in the nearest location and then choose your kind of game. There are different types of weapons in this game, you need to collect those weapons to shoot the enemies after you take these weapons. When you start this game, you have no weapons so you should get a weapon quickly. Thus, you can use the scope and laser features of the Survivio mod unlimitedly.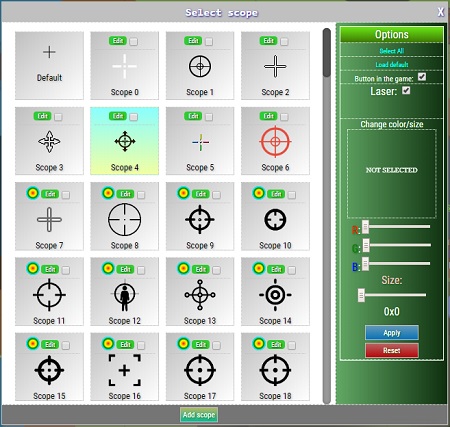 Many players do not know which type of bullets fit which weapon. The mod will help you to avoid this and also Surviv.io wiki can help with this issue. Surviv.io mod offers you 149 custom-crafted scopes. In addition, you can prepare your own scope design yourself. Briefly, you can change the size, color, and image structures. After you have finished choosing your scope, you can save this custom design, and then you can use it in other rounds. If you activate the laser option with Surviv io mods, it will be easier to target the enemy with your weapon.
Surviv.io Mods Features
149 unique scopes
Laser targeting
Custom scope style
Switch the size and colours of scopes
Surviv.io Mods (need Tampermonkey or others below)

You must have
TAMPERMONKEY CHROME  / TAMPERMONKEY OPERA / GREASEMONKEY MOZILLA
VirusTotal Scan: Surviv.io Mods
Weapon List Of Surviv.io
Pistols (M9, G18C, M93R, OT-38, Desert Eagle, Peacemaker, Flare gun)
SMGs (MP5, UMP9, MAC-10, Vector)
Sniper rifles (Mosin-Nagant, SV-98, AWM-S)
LMGs (M249, DP-28, QBB-97)
DMRs (M39 EMR, MK 12 SPR, M1 Garand)
Shotguns (MP220, M870, Saiga-12, SPAS-12)
Assault rifles (AK-47, M416, SCAR-H, FAMAS, M4A1-S)