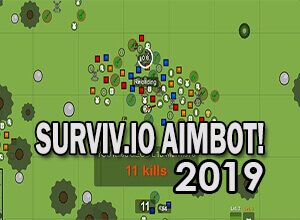 Surviv.io is the most popular online 2D battle game. It is a free game; you have to be downloaded from the play store. You need to be an account to play the game the first time. There is a surviv.io bot for all players to win the game easily. It has many features which are described below.
You have to be an official account to play the game the first time. It is the best entertaining game with simple graphics and better gameplay. There are many ways to play the game but you need some tactics and strategy to play the game with a surviv.io bot and win the chicken dinner.
Some of the Ways to Play Surviv.io
You have to make a visit to the official website of surviv.io and download it. There are many copycats also available but you have to search the official page. You have to pick your name very carefully. Avoid giving your personal information or real name. So, you have to give any name otherwise computer automatically puts your name as a player. After that, you have to choose the language which is suitable for you.
You should have the Tampermonkey plugin for your browser before downloading the surviv.io bot. In addition, you should disable other surviv.io mods.
Aimbot
Auto reload
Auto Respawn
149 unique scopes
Laser targeting
Custom scope style
Switch the size and colors of scopes
Surviv.io Bot (needs Tampermonkey or others below)

You must have
TAMPERMONKEY CHROME  / TAMPERMONKEY OPERA / GREASEMONKEY MOZILLA
VirusTotal Scan: Surviv.io Bot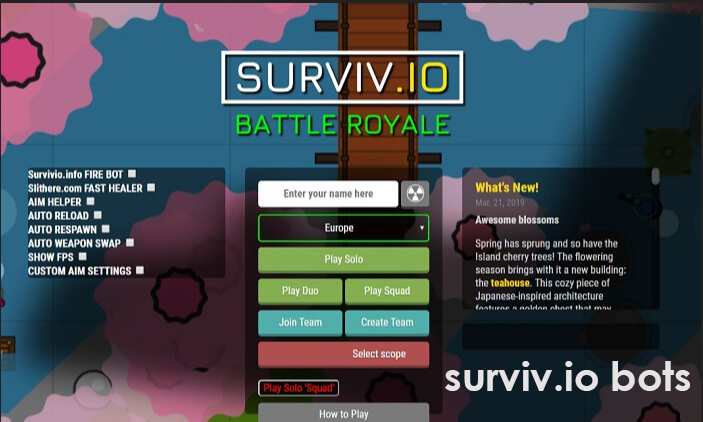 Game Mode in Surviv.io
There are mostly three game modes are available including solo, duo, and team. So you have to choose your game mode which you want.
In solo: you have to play yourself and move forward. You don't have the responsibility for any other players. You have to move anywhere and fight with any other players.
In duo: you have to play with your teammates and make strategies and move forward. You have to be very careful about your movements.
In team: you have to play with your three other partners and destroy the other group members. In this game mode, you have to make strategies with your partners before the battle.
Controls of Surviv.io Game
Movement: W, A, S, D
Aim: Mouse
Punch/Shoot: Left-Click
Swap Weapons: 1 and 2
Stow Weapons (Punch Mode): 3 or E
Reload: R
Pickup/Loot: F
Use Item: Click on Item
View Map: M or G
Pickups The Loots
You have to be killed or eliminate your all enemies and pick their weapons and powers. You only carry two weapons that why choose always the best one and move forward. In the end, you have a strong strategy to kill your opponents and win surviv.io bot to increase your boost. You have damaged all the plates in your surroundings to increase your powers.