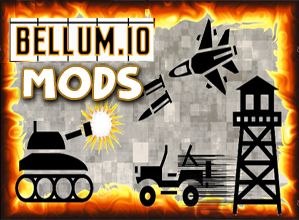 Bellum.io is a strategy io game that is a popular game among io players these days. The aim of the players is to enlarge their territory as much as possible and to have the whole map. There are many different units in the game such as a soldier, squat, tank, base, and airfield. By developing these units you should make your territory more powerful against the enemies. To develop these units you need military power, you can gain automatic military power with our bellum.io mods.
Many players want to achieve world record with professional strategies but you can get the first rank on the leaderboard by using bellum.io mods. You can share your strategy with other players in the game, the team with them, or destroy everything with the add-on. Today, we will present bellum.io mods to gain unlimited military power.
Features Of Bellum.io Mods
– Press Activate Hack Button [to gain unlimited military power]
– News System
-Auto Message
You must have one of the 3 plug-ins below depending on your browser
TAMPERMONKEY CHROME  / TAMPERMONKEY OPERA / GREASEMONKEY MOZILLA

VirusTotal Scan: Bellum.io Mods
If you have a problem with using the bellum.io extension, please contact us from the contact section and we will be happy to assist you.