Upgrade Your Diepio Tanks To Win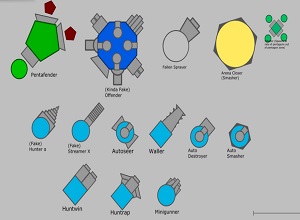 Are you playing diepio? Choose your diepio tanks to upgrade and make yourself stronger. Enjoy the game at each level and survive as much as possible.
Playing online games is a crazy thing because you can play the games with your friends as well as with players from the entire world. You don't need to go anywhere. You can play the game anywhere you can. Diep.io is a multiplayer action game which is a tank control game and you have to upgrade the diepio tanks to survive and win.
Diepio Tanks
The main interesting thing about the game is, you have to play the game with another player like you where you will get a basic blue tank first. You have to upgrade the tank to win it.
There are also tiers of the different levels where the upgrades are given. In, tier 1, you will get a tank that can use to destroy the obstacles. You have to hit 2 times to break squares, 5 times to break triangles, 22 times to break pentagons. You have to collect points to go further. After reaching level 15, you will get smashers in tier 2. The diepio tanks are different types and details are given below.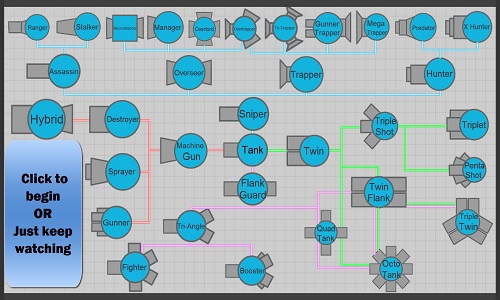 Twin- It has an extra anterior canon and the damage power is slightly lowered.
Sniper- In this class, the tank has an enlarged view of the field and you can shoot in the long bullet speed is high but reloads speed is lower.
Machine Gun- it has a large damaging area but less accuracy to hit opponent or obstacles. It can hit twin than twin tank.
Flank Guard- it gives you a rear canon that can shoot simultaneously. You can shoot both in front and back.
After that, you have to reach level 30, where you can get the tank up-gradation of tier 3.
Triple shot- It has three canons in front, which covers more frontal area but has less firepower.
Quad tank- It has four canons in four directions. So, it can hit in four directions but firepower is reduced.
Twin Flank- it has two cannons in front and two in back and has much hitting power
Besides of that, there are more upgrades like
Sniper upgrade: Assassin, Overseer, Hunter, Trapper
Machine Gun upgrade: Destroyer, Gunner
There are more levels and more tank upgrades. You will love to play this and there are almost 45 tank upgrades.
Overall, the game is very much challenging and you have to survive as much as possible to win further. Tank colors denote the grade of your level. Play with diepio tanks and destroy your opponent.