Top 20 Slither.io Skins 2016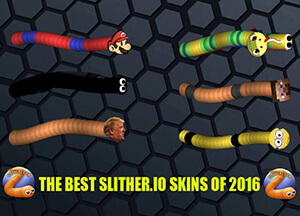 Slither.io is the biggest multiplayer game. People loved the Slither.io games and have been playing for a long time. Many players aim to reach the highest score in this game because they want to rank among in the leaderboard. In addition, a lot of users have been using slithere Slither.io mod for 7 months. In this article, we will explain the most preferred Slither.io skins throughout December and the entire year 2016.
Top 20 Slither.io Skins 2016
First of all, we listed these skins according to the percentage of players' Slither.io playing time. We need to mention this point in particular that you can find Slither.io skins in this list only in our Slither.io mod. We have produced and shared many different skins since we published our Slither.io mods as you may remember. It was unreasonable for us to make our choice because there are many skins that you will understand. Therefore, the most used skins helped us as analytics data when we created a top 20 Slither.io skins 2016 list. Also, we sometimes prepared different Slither.io skins that are inspired by cartoon characters, referring to real-life people and popular icons in the public society.
1. Super Mario
2. Slithere.com Special Snake
3. BlackStyle
4. Donald Trump
5. Steve
6. Minions
7. Creper
8. Hog Rider
9. Angel
10. Devil
11. Spiderman
12. Traffic Pontoon
13. Troll Face
14. Captain America
15. Sonic X
16. Jigsaw
17. Super
18. Red Bull
19. Instagram
20. Ghost
Finally, we thank you for playing this game and our Slither.io mods lovingly. If you have any problems or would like to share your own design skins with us, you can contact us via our contact form on our Facebook page. You should continue to follow our site, we will soon introduce new features of our Slither.io mods.