Gartic.io Word List (6 Letters)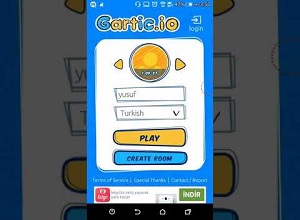 Gartic.io is an astonishing and amusing IO game that is all about drawing and guessing words. You would have to play with a number of players at the same time and you would need to draw a drawing related to the word and let the others guess the word. Gartic.io word list will help you to guess the word.
How to Play Gartic.io Game?
Gartic.io game is an interesting game where you have to draw pictures and then the other players would need to guess the same quickly and carefully within time so that you can accumulate points. The player would need to draw well and earn a lot of points.
The objective of this game is to become the best player of all when all the rounds are finished. You would need the mouse button to draw and then type in the words and send them by using the keyboard. You can choose from random gartic.io words which you have to draw after choosing from the Gartic.io word list. The others need to guess the word that you have drawn. The answer remains hidden until the end, so if you guess first no one else will see, but you'll know you got the points!
If you can guess the answer sooner, you will score a lot of points and the sooner you guess, the more points you will gain. Your aim will be to be at the top of the leader board. You can actually get some hilarious responses while playing the game. Gartic.io is great for a non-sign up game where you can log in for free and is perfect for a fun session of light-hearted gaming with friends!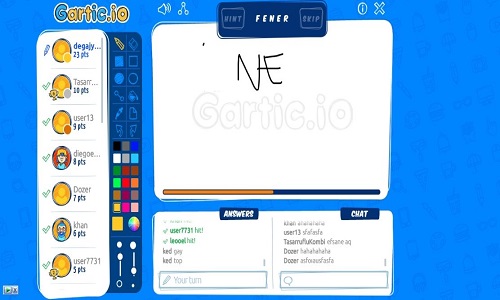 Gartic.io Word List (6 Letters)
Africa
Anubis
Batman
Brazil
Canada
Chrome
Darwin
Dexter
Easter
Eminem
Europe
France
Gandhi
Google
Greece
Grinch
Hawaii
Israel
Kermit
London
Medusa
Mexico
Minion
Monday
Mozart
NASCAR
Norway
Obelix
Paypal
Popeye
Reddit
Russia
Saturn
Segway
Slinky
Sudoku
Tarzan
Tetris
Tweety
Uranus
Wall-e
action
airbag
almond
alpaca
anchor
archer
armpit
baboon
badger
bakery
ballet
bamboo
banana
banker
barber
barrel
basket
battle
beanie
beaver
beetle
bellow
betray
bleach
booger
border
bottle
bounce
braces
branch
breath
bridge
bronze
bruise
bubble
bucket
bullet
bumper
butler
butter
button
cactus
camera
canary
candle
cannon
canyon
carpet
carrot
casino
caviar
cement
cheeks
cheese
cherry
church
cicada
cinema
circle
circus
clover
cocoon
coffee
coffin
collar
comedy
cookie
copper
corner
corpse
cotton
cousin
cowboy
coyote
crayon
credit
cringe
cruise
cuckoo
cyborg
cymbal
dagger
desert
diaper
dinner
doctor
dollar
donkey
double
dragon
drawer
driver
earwax
embers
engine
eraser
eskimo
fabric
facade
family
farmer
father
faucet
filter
finger
flower
folder
forest
fossil
fridge
galaxy
garage
garden
garlic
gender
gentle
geyser
goatee
goblin
grapes
gravel
grumpy
guitar
hacker
hammer
handle
hanger
harbor
hazard
health
helmet
hermit
hippie
hobbit
hockey
hunger
hunter
hurdle
iPhone
icicle
impact
insect
inside
island
jacket
jaguar
jester
juggle
jungle
karate
katana
kettle
kidney
kitten
knight
kraken
ladder
laptop
lawyer
leader
lizard
lotion
lounge
lyrics
magnet
makeup
mantis
marble
market
marmot
mascot
minute
mirror
mohawk
monkey
mother
muffin
muscle
museum
musket
nachos
napkin
nature
needle
nickel
noodle
nugget
nutmeg
office
omelet
orange
orchid
oxygen
oyster
paddle
palace
papaya
parade
parrot
pastry
peanut
pencil
pepper
person
pickle
picnic
pigeon
pigsty
pillar
Gartic.io Controls 2019
Gartic.io controls are really simple and easy to play with. You would need to mouse to draw and the keyboard to type the words. You need to follow the tips in order to play the Gartic.io game. This game can be best played with friends and family. This is a simple game where you can score as much points as you want if you can guess the drawing well. Do not get distracted in the game yourself but you can try and distract the other players. Make use of the colors well.
If you win more points you would be the winner in the leader board as well. This game is a simple game that is fun and interesting to play and if you want to spend some good time doodling, and then this is the ideal game for you. Read the Gartic.io word list well to understand the game.