A game of guess and answer, Gartic.io has been famous over the internet for a while now. You can browse to play for an interesting time.
Gartic.io has been one of those games which became famous like no other. The game is very simple in its approach. You have to guess what the opponent has drawn on the screen. Once you start playing this guess and answer game, you would find it much more intriguing than any other.
Details About Gartic.io
What makes this game much more fun is the simplicity it offers. You have to draw and guess and then you can win. The game follows a basic concept. It is a free game in which you would join a group. One would draw something and you have to guess what it is. The routine would be followed, with each player getting the turn to draw something related to a particular theme. Another interesting part is that you can invite your friends to form a group and play this game. The game offers six different themes.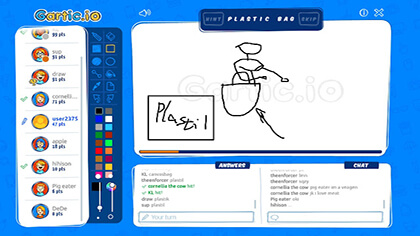 How To Play Gartic.io
You would think that the game must be a bit complex as it offers a person to draw. But to assure you, Gartic.io is one simple and easy to play the game. While a person is drawing something, you can send your answers via a box. Try your best to answer what the person is drawing. When your turn comes, draw using various tools available for you. Try to make a perfect image to get the correct answers. While the game is simple, you also need to collect points with your best guesses. You can also chat via a chat box with other players in your group.
Playing Gartic.io Game
With these points being mentioned, the following details can be concluded:
io is a simple guess and answer online game.
A person needs to draw while others would guess what it is
A person can join a group online or invite his friends
A person can use various tools to draw while answering through the message box
A chat facility is also available while you play the game
Having said all of that, Gartic.io is one such game that can make you addicted to it. You can play it with your friends or you can play online with other people.
PLAY GARTIC.IO