The Wormax2.io is a slither game that lets you make real-time combat against players in the arena, and come up with trumps. This is the new and better sequel of Wormax.io, which has all the wonderful elements of the actual and also packs in extra interesting features. Here, you can have 3 lives rather than one – which is the prime distinguishing factor from the original. The Wormax2.io wiki can offer you a clear picture of this interesting slither game.
What Does Wormax2.io Game Include?
In this multiplayer action game, you can get the chance to combat opponents in real time over food – the precious thing that you have. In the game, you can come across many opponent worms that will use tricks and tactics to have you trapped and gobble you as well as your foods. It is essential that you remain completely alert and cautious, given that the foe worms will try every possible way to grow in size and mass.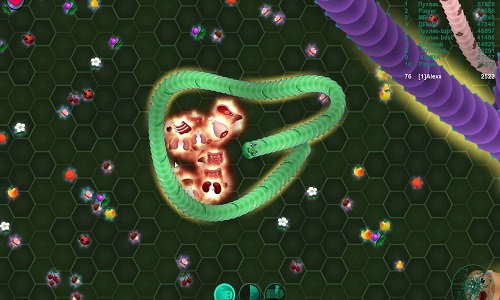 What are the Techniques that Wormax2.io Wiki Teach You to Follow?
As the Wormax2.io wiki mentions, in this game, your primary objective is to gather food following the trail on the map. However, when you are playing the game, you need to be very careful and make sure that no worm runs you over. Keep in mind that the worms are very tactful and skilled, which makes them more diverse and exciting. At times, you can come across some boosters along the way on the map. These can be toxics, telescopes, health, magnets, etc, which can arise randomly and serve as a short-term bonus to move within the game. You need to use such bonuses to grow more quickly and get some skills to combat your foes.
Wormax2.io premium includes no adds: 1 month for 4,99$, 3 months for 9,99$ and permanent for 19,99$.
Wormax2.io skills are acceleration, stop and ghost. These features are available on the map.
Wormax2.io boosters are Mass, Toxic, Magnet, Telescope, Mass Conservation, and Stretching.
There are 4 types of quests in the game:
You can gain length in 1 battle game.
You can gain a number of kills in total in several battles.
You can collect the number of boosters in total in several battles.
You can keep your place on the leaderboard for a certain time in total in several battles.
How to Play Wormax2.io Game?
Typically, the worm automatically moves following the cursor of the mouse. When it comes in contact with the food points, it becomes longer. You can go to the bottom right corner to track your own worm. There are dark green spots over the screen, which indicate the worm of other players. The blue light spots indicate the worm of a friend while the light green light stands for your own worm. You have to use arrow keys in order to change your worm's direction. The keywords E, W, and Q are actually utility keys that can be used as boosters and can improve your speed while you play the game. The Wormax2.io wiki can offer you complete guidance about the game.