Top 10 Slither.io November Skins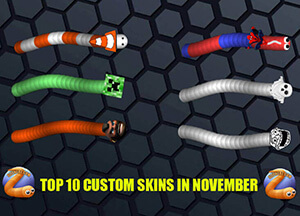 Slither.io is the top .io game in the world now. Everyone plays Slither.io with plugins which make the game easier and more enjoyable for players. Many people want to play with new characters in Slither.io by slithere.com mods. We will show and describe popular slithere.com skins which players usually play at a certain time. Also, new skins are decreasing the lag problem when you are playing Slither.io. The lag is a very common issue in Slither.io but we want to provide better game satisfaction to our audiences. You can see our Slither.io November Skins below.
Top 10 Slither.io November Skins
It is our fifth popular top 10 Slither.io skins list which based on the info of November. The first popular skin is that Traffic Pontoon is played by the vast majority of players. The second popular skin is Creepter that many people know this character from Minecraft. The third popular skin is Hog Rider which is familiar for everyone from Clash Royale. The list is made depending on the playing percentage in the google play store and slithere.com mods data. We hope that you will enjoy more the game when you have unique skins which are created by users and our programmer team. Also, if you want to create your skin and share out with other players, you can send and share your skins on our Facebook contact page. Finally, people may play with your skins which may enter the Top 10 Slither.io December 2016 Skins.
1. Traffic Pontoon
2. Creeper
3.Hog Rider
4. Spiderman face
5.Red Bull
6. Spiderman
7. Ghost
8. Troll face
9. Steve
10. Donald Trump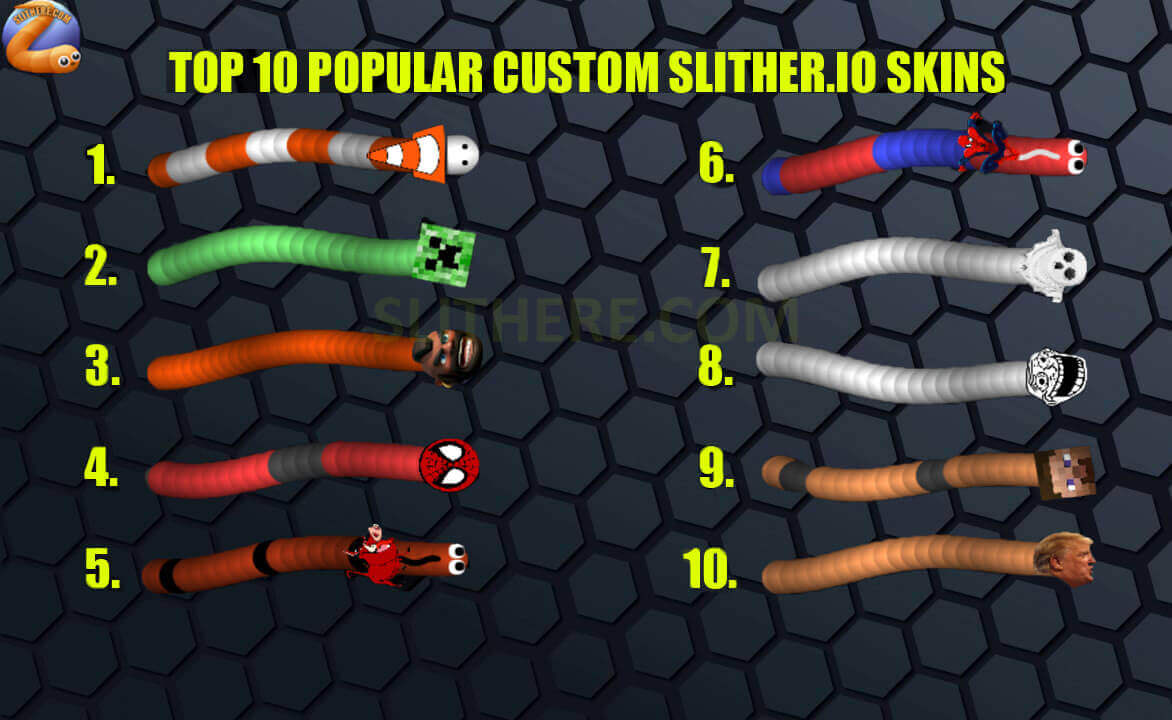 Next Top 10 Slither.io Custom Skins
This sorting is done according to the most popular skins. These skins will support you gain more points and an enjoyable game. Ranking of popular skins will be held every month. Also, if you want your own skins to share in Slither.io mod, you can contact us with slithere.com Facebook page. At the end of December it will be held next month ranking which name is Top 10 Slither.io Skins In December.
Send us your own Slither.io custom skins and everyone will play with your custom Slither.io skin
For December 2016.