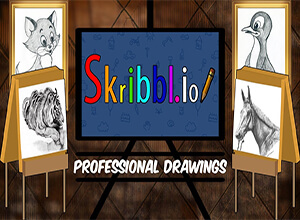 Skribbl.io is a multiplayer online drawing and guessing game. One game comprises of few rounds in which someone has to draw their chosen word and the others have to guess the word in order to gain points. The person who has the most number of points wins the game. There are different keywords in the skribbl.io word list.
About Skribbl.io Game
Skribbl.io game is a drawing and a guessing game where the aim of the player in the game is to guess the word chosen by the selected player to draw the picture. After finding the word you can write it in the guessing section and also earn points and then try again. You can get more points if you can guess the words faster than others. This game comprises a few rounds. If you are chosen as a player the game would provide you with three words list that you can choose from. Draw a picture related to the word and the player who can guess the word can accumulate more points. If you cannot guess the word then you will not get any points. Therefore, you can use the skribbl.io word list to eliminate other players easily.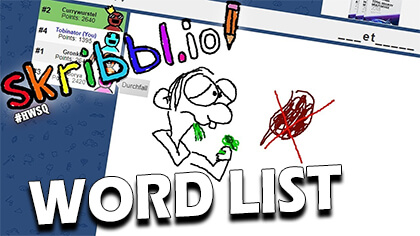 Skribbl.io Word List User Guide
If you want to choose the different words, then you can refer to the skribbl.io word list which is a number of four letter words. A skribbl.io word list is a personal tool for your autobiographical story. Enter the lists by beginning a line with an asterisk. You can also create various sub lists in indenting the long list items. You can also link an entire list item by placing an URL in brackets at the end of the item. Sign up and create your space and then add users to your favorite links found at the top of the page. List your listography to the web blog or other spaces. This is the way in which you can start playing your favorite game.
Also, thanks skribbl-io.net for the list.
Seven letters:
America
Balloon
Biscuit
Blanket
Chicken
Chimney
Country
Cupcake
Curtain
Diamond
Eyebrow
Fireman
Florida
Germany
Harpoon
Husband
Morning
Octopus
Popcorn
Printer
Sandbox
Skyline
Spinach
Eight letters:
Backpack
Basement
Building
Campfire
Complete
Elephant
Exercise
Hospital
Internet
Jalapeno
Mosquito
Sandwich
Scissors
Seahorse
Skeleton
Snowball
Sunshade
Treasure
Nine letters:
Blueberry
Breakfast
Bubblegum
Cellphone
Dandelion
Hairbrush
Hamburger
Horsewhip
Jellyfish
Landscape
Nightmare
Pensioner
Rectangle
Snowboard
Spaceship
Spongebob
Swordfish
Telephone
Telescope
Ten letters:
Bellpepper
Broomstick
Commercial
Flashlight
Lighthouse
Lightsaber
Microphone
Photograph
Skyscraper
Strawberry
Sunglasses
Toothbrush
Toothpaste