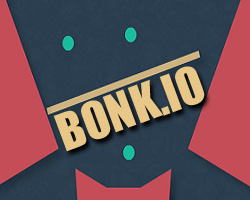 What Is Bonk.io?
Bonk.io is a new .io game that has a different style such as a physics game. The playing style of the game is very simple, so everyone can play this game easily. You are trying to eliminate enemies by practicing many physics tactics in various maps. Move your character with pressing arrow keys and hold X to make your character heavier than enemies. When you are holding X, your character will gain more power to hit other players and stabilize the current location. In addition, you will lose a little bit of your movement's speed when you are holding X.

What Are The Features Of Bonk.io?
Moreover, bonk.io offers much freedom such as creating your own room, maps, mode, playing with your friends. You can set up your own map with a game-level editor and players can play on your own map easily. There is a requirement to create a map, so you need to register the game to use special things that are game-level editor, level system, and creating skins. If you register the game and win the game, you will level up. When you create your own room, you can set a password and adjust the players' limit to up to 8 players.
These days, you can create your own room with different game styles such as volleyball, football, and classic bonk game. In addition, you can regulate the style of the room such as Free for All (bonk) and Team (volleyball and football). Furthermore, bonk.io presents a lot of tools to increase players' coaction in the game. We will make mention of these advantages of the game.
The game provides a chat system to players for new tactics speeches and greeting messages. You can play with your friends easily because bonk.io provides a link entering the same room for your friends. Thus, these features are increasing people's addiction to the game. Finally, we highly recommend playing this game as much as possible.
PLAY BONK.IO