Krunker.io mod aimbot offers a lot of different features to the krunker.io users. The most important of these features are briefly aimbot, firebot, fast healer, no recoil, wall hack, ESP and so on. Krunker.io unblocked game is a single or teamed shooter war game. The way you play in this game is very important because only a good game style can give you winning the game. There are quite professional players available in this game but you can easily kill these players by using krunkerio mod aimbot.
How To Install Krunker.io Mod Aimbot?
In order to use the krunker.io mod aimbot you should have the Tampermonkey plugin installed in your browser. If you don't have, you can use the following links below. Krunker.io mod aimbot will be activated automatically after downloading. If your browser is Google Chrome or Opera, you should install Tampermonkey. However, if you are using Mozilla Firefox, you should install the add-on named Greasemonkey. After installing krunkerio mod aimbot, you will see a button named Hacks on the top right of the home screen. By pressing this button you can turn on and off the different features of krunker.io mod aimbot.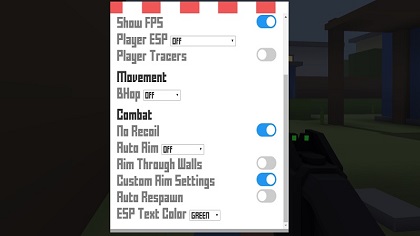 Features Of Krunker.io Mod Aimbot
Fast Healer
Firebot
Auto aim
Aim Through Walls
Auto Respawn
Wall Hack
ESP
ESP text color
Player Tracers
Bunnyhop
No recoil
Custom Aim Settings
Show FPS
Fast Keys
T: Change Auto Aim Mode
Y: Auto Aim Range
U: Activate Player Info and Wall Hack
P: Auto Reload
I: Unlimited Ammo
O: No Recoil
B: Change BunnyHop Mode
Krunker.io Mod Aimbot (need tampermonkey or others below)

You must have 
TAMPERMONKEY CHROME  / TAMPERMONKEY OPERA / GREASEMONKEY MOZILLA
VirusTotal Scan: Krunker.io Mod Aimbot
Players need to delete other krunker.io mod aimbots!

Version Updated: 4.6.2019
Description Of The Features
Fast Healer quickly increases your health when you are hit.
Firebot should be turned on with auto aim, which allows automatic and quick shoots.
Auto Aim provides automatic targeting to players. There are 4 different versions of hip fire, triggerbot, quickscoper and manual.
Aim Through Walls makes wall targeting.
Auto Respawn provides automatic respawn feature.
ESP feature allows you to see the names of the enemies, their distance to you, the level of life, the number of guns and weapons in the distance.
No Recoil provides better stability for your shoots.
BunnyHop serves to jump fast and distract the enemies' targeting.
Custom Aim Settings provide to customize aimbot options.
Show FPS shows the fps of your player.
Related Posts